Discover more from Michelle Varghoose
From Corporate to Creative
Tiny black bugs crawled all over the light blue curves of the mattress. 
Not one mattress it turned out. All the mattresses in our otherwise pristine rented homestay were covered in bugs. 
As my sister and I lifted the blankets on each one, we realized that even under the sheets, more bugs were creeping around. 
Bed bugs, I assumed. Though later, I would get in a heated argument with the company renting out to us about whether or not the bugs were truly bed bugs.
Back in that moment though, I compartmentalized the blood sucking creatures in one part of my brain, so that I could use the other part to focus on what was directly in front of me. 
My rose gold laptop sat on a wooden nightstand a little too close to the bed. Microphone plugged in, weak smile plastered on my face as I waited for the recording to start. 
"Hey Status Post Adulting family…" my sister Sammie started our podcast the way she always did. 
Our original podcast topic was around an idea we could not stop talking about, Sparketypes. 
As we set up our impromptu podcast stations, we talked about our plan for organizing our ideas around the topic for a few minutes before I stopped my sister, shaking my head defeated. 
"I think we should talk about what's really going on." 
The bed bug infestation was simply the latest blood red cherry on top of what will always rank as one of the worst weekends of my life. 
We scrapped Sparketypes, hit record, and told our listeners what truly was going on.
Next week, after two years and 109 episodes, Sammie and I are rebranding our podcast, Status Post Adulting, and I could not be more excited.  
There is no other project in my life that I can say I showed up for every week for over two years straight. 
When a radio tower fell on our house, and my sister and I found ourselves stuck in a cozy farm cottage infested with bed bugs, we took the time to record our weekly podcast episode before abandoning the home in the middle of the night to search for a vacant hotel in our small town. 
Thinking back to that weekend, it's the one weekend where we could've given ourselves permission to miss. 
Anyone would have had compassion for us if we had deprioritized the podcast. 
However, it's also wild to be able to go back and listen to that episode and hear the moment we captured, a time capsule within our podcast catalog. 
My sister and I joked and laughed about the whole situation, but I can also hear my voice shaking, still in the midst of an unresolved and unprocessed issue. 
Status Post Adulting is our podcast which has a unique imprint that's created by me, my sister and our audience. 
When Sammie and I launched in January 2021, we knew we wanted to work on a project together, we felt like podcasting could be a cool medium but we didn't know much outside of that. 
The name "Status Post Adulting" was something that spoke to us when we were brainstorming ideas in the beginning.
"Status Post" came from my sister, a physician assistant, who explained to me that it was a medical term that meant "after". Status post knee surgery for example is after the knee surgery.
"After" adulting was our intention behind the name. A podcast about what to do with your life after you checked boxed your way to success, but then felt unsatisfied. 
Status Post Adulting was meant to embody that frustration we personally felt when we realized that making money, eating fancy dinners, even traveling to Vegas four times a year, were leaving us feeling unfulfilled.
Turns out, almost every other person has thought our podcast name meant "adulting". 
"Like posting about adulting, on social media or something," one of my friends explained to me. 
Still, we didn't feel compelled to change the name.
People recognize Status Post Adulting. Our mom loved it!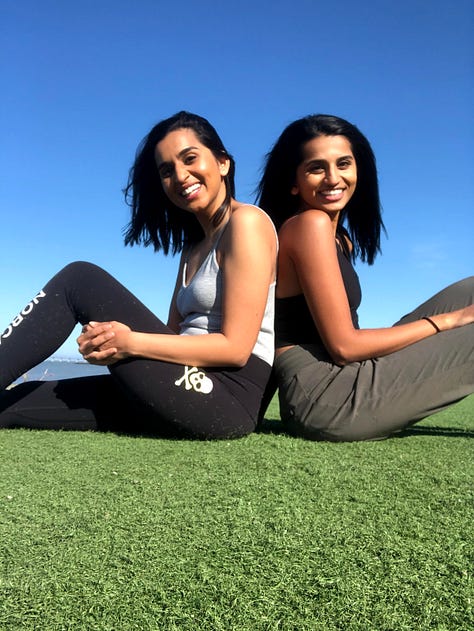 As Sammie and I matured as podcasters though, we realized the name felt like a pair of old jeans you jump in just to get on. We had to admit it no longer fit. 
Recently, we started working with veteran podcasters who've been coaching us on different ways to improve our podcast. 
The rebrand was their suggestion. Their advice was to find something that immediately tells people what they get if they tune in and listen.
Focus on the listeners' journey, they advised. 
So Sammie and I started tossing words together.
Money. Spirituality. Finances. Abundance. 
As a joke, I suggested we consult ChatGPT. Sammie pulled up the website and asked for some suggestions. We went down the list.
"Oh dang, these are good," Sammie muttered.  
It took a while, but we landed on a name we liked. 
Meanwhile on Twitter,
had put together some
art
for
which I loved so much I shared it on my feed. 
Serendipitously, Sammie and I linked up with Elizabeth, a logo and brand designer, who was a dream to work with and who made our vision come alive.
Sammie even tracked down Robyn, the woman we met through Fiverr.com who wrote our original iconic jingle. People loved our old song so much that they've sung it back to us word for word.
Robyn graciously agreed to write our new jingle as well. 
I'll admit, I was hesitant to change our branding. However, after seeing our playful new logo, hearing our short but impactful new jingle, I'm pumped to share the changes with the world.
With all those changes, the heartbeat behind our podcast is still the same. 
After talking about self development and growth for the last two years, inevitably Sammie and I have evolved and the people in our audience have grown as well.
Still, we're the same two sisters who show up every week, looking to create a light hearted learning environment while also sharing our authentic stories, bed bugs and all. 
Tune in Monday for the official launch of our podcast rebrand! 
Thanks for reading Michelle Varghoose's Newsletter! Subscribe for free to receive new posts, support my work and join this wonderful community.