Discover more from Michelle Elisabeth Varghese
From Corporate to Creative
For the past two years, my dating life has been dryer than the desert I call home. 
This was by design.
For one of those years, I moved back home with my parents after losing my job. My goal that year was to sort out my life.
The second year, I moved to the aforementioned desert town with my sister and have been focused on growing our podcast and writing online.
I've been busy. Ok yes, I'm also a little avoidant.
But I promise I'm changing for the better. I'm ready to start dating again. 
That being said, I'm not trying to date in my small town. The options are limited and there is no privacy. 
I already have to avoid the only grocery store in town during peak hours because once I was a little too cheeky with a cashier. 
But, as a woman who would like to have kids and is sick of hearing the words "advanced maternal age" get dropped in conversations, I've decided to be more active and open to dating in 2023. 
Thus, I decided to be more creative with my dating strategy. 
I planted the seeds a few months ago when I was at an intimate gathering with four of my friends for Thanksgiving. 
Sitting on the sofa with both couples, I dropped my ingenious plan on them. 
"This year, I'm going to focus on dating and finding my husband. I want you all to know, if you introduce me to my husband in 2023, I'll give you $1000 on my wedding day."
They erupted into laughter. 
"$1000 is nothing."
"Does that include inflation?"
"We don't want your money."
Here I was hoping they would be excited to introduce a catch like me to someone and instead insinuated that my money was no good. 
It escalated when the negotiations started. 
"Can you move back to San Francisco?"
No, if I lived in a city, I could find my own husband.
"Maybe we can create a dating profile for you."
Catfishing some poor guy on a dating app did not seem like a healthy start to a relationship. 
"Instead of money can we have the option of making any request at your wedding?"
This was turning into real life Rumpelstiltskin, and I was wary I'd have to name my first born after one of them. 
I started to wonder if I really knew this band of psychos.
Eventually we came to an agreement. 
My friends have until January 3rd, 2024 (just in case they meet someone on New Year's Eve, they argued) and they as a team can make one request that I have to oblige on my wedding day. 
They agreed that an outside friend of ours will have to approve the request so that it's nothing unreasonable. 
I found my friends' complaints and negotiations a bit humbling. I did not think they'd complain about how hard it would be! 
A huge part of it I know is the fact that I live far away in a remote town. I told them to wear shirts with my face on it and lead with that at parties. 
To their credit, they did warm up to the idea and by the end of the night, they were scheming ways to find eligible bachelors for me.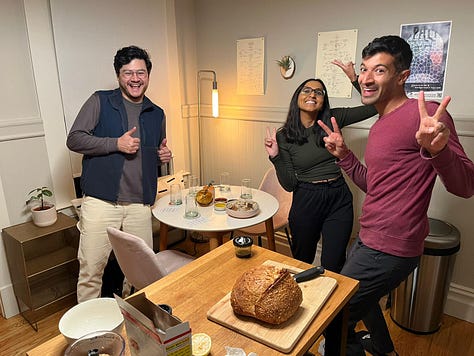 As an Indian, it's not lost on me that asking my friends to find me a partner is similar to the arranged marriages that I saw growing up. 
I was never interested in that option, and yet here I was, essentially requesting the modern day equivalent. 
When I told my mom that I was encouraging my friends to set me up, she got way too excited. 
My parents have always been supportive of a love marriage, but as two people who had an arranged marriage, they've never quite understood western dating. 
Dating someone for two or three years has always seemed like a waste of time to them. 
Once, I had to tell my dad that my sister wasn't planning to get engaged to a guy she was dating for only a month. 
"Why? I only knew your mom for two weeks!" 
After 36 years of marriage, this is a hard thing to dispute. 
So this new dating plan of mine is one my mom can get behind. However, much to her chagrin, I tell her she can't participate. She is offended, unable to fathom why, but not two minutes later she proves my point. 
"You should date James," my mom suggested.
"Mia's boyfriend?" I asked confused. 
"She doesn't appreciate him."
"That's not how this works."
"Plus he doesn't want to have kids."
"These are all dealbreakers."
"Maybe he just doesn't want to have kids with her."
My mom is hard to sway when she's got an idea in her head. I know she'll probably still ask her friends with sons, so I make sure a few things are clear. Like say, single people only. 
I'm still early on this new dating journey, but I figure if no one finds me a husband in the next year, I'll move to a bigger city and start actively dating myself. 
And if they do, well, hopefully it's someone who's comfortable letting my friends name our first born.
Thanks for reading my newsletter! Subscribe for free to receive new posts, support my work and send me options for husbands (just kidding)